Ribbon pakodawithpottukadalai/ottu pakoda- Diwali special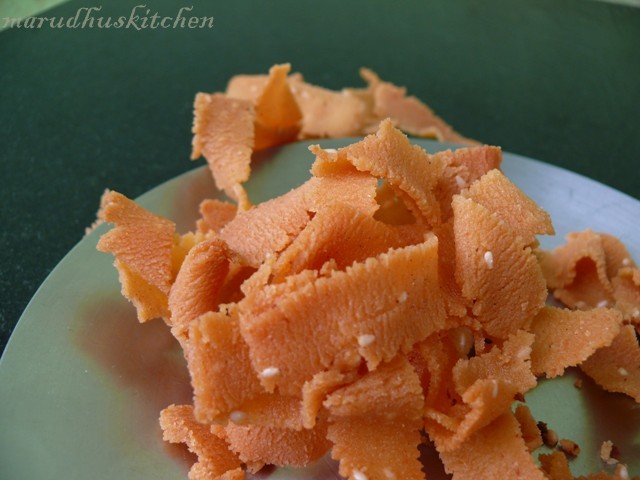 For ribbon pakoda with pottukadalai, I have used rice flour and pottukadalai mavu.The amount of  pottukadalai mavu can be replaced with kadalaimavu.There are many options and variations of  ribbonpakoda that can be done .
we can soak rice and grind the rice instead of using rice flour.pottukadalai mavu can be sieved so that it passes through the  sieve very easily.Ottu pakoda with pottukadalai is one the south Indian snack and Diwali special that is done during festive seasons and is a perfect match for tea time.when  we use roasted gram it will melt in your mouth and is easy to make.I have done this two or three times ,it gave me good results each time I tried this.While using butter be careful .The amount of butter that can be used for 1 cup rice flour differs from  11/4 – 11/2 teaspoons.
Ribbon pakoda with pottukadalai/ottu pakoda - Diwali special
Ingredients
Rice flour - 1cup
potttu kadalai mavu - 1/4cup (roasted bengal gram flour)
chilli powder - 3/4tsp
sesame seeds - 3/4 tsp
Butter - 11/4 tsp
asafoetida powder - 1/4 tsp
Salt as needed
Oil for frying
Instructions
mix all the ingredients in a bowl for ottu pakoda
make a dough as shown.
Take ribbon pakoda achhu of murukku squeezer and simply squeeze the dough
You will get beautiful ribbons as shown.
Fry it in medium flame. Directly press the dough over the oil. Cool completely before storing in a container. The dough should not sticky. Amount of butter varies from 11/4-11/2tsp.
copyright @ marudhuskitchen