Making of Badusha sweet/mini badusha's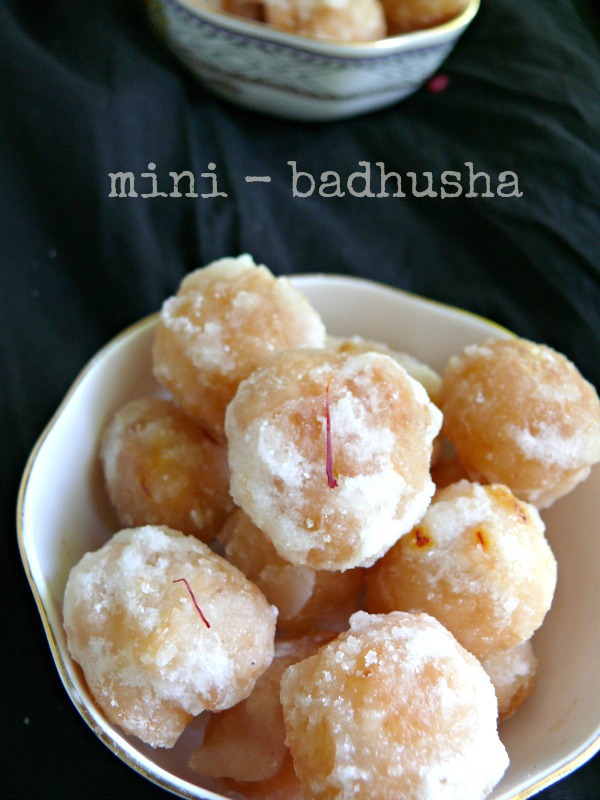 This disc shaped sweet have won every Indian's heart by its distinct taste and aroma. Flakiness and softness add a special uniqueness to this awesome sweet.I tried making  of badusha sweet first during last Diwali.Actually I tried two variation one using butter and the other using ghee . Both came out well having their own  textures."Traditional Balushahi" well known as "Badusha" have won great appreciations in my home.I have missed making of badusha  sweet at home for so many year's.(spelling may be either badhusha or badusha)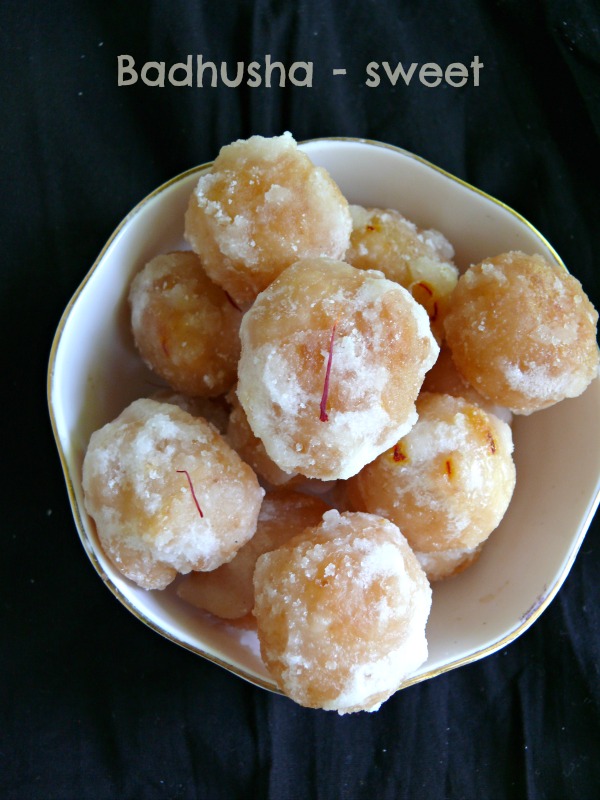 Of-course I have tasted it in functions and shops.In shops they fry badusha with ghee which we feel little heavier than frying it in oil.I personally like the one that is fried in oil which is lighter.For the sugar syrup I add rose water and saffron which is the must with a pinch of cardamon powder.when badusha absorbs the sugar syrup the rose water and saffron's flavors are absorbed deep inside which gives a divine taste and aroma.We must quickly toss the whole batch before the sugar crystallizes as I like the syrup to coat the badusha to some extent.Here I have made the dough using ghee.The badusha should be cooked in medium heat so that it is cooked through and light golden color.This recipe is well appreciated for its wonderful softness and don't knead the dough too much.
Making of Badusha sweet/mini badusha's
INGREDIENTS:
FOR THE DOUGH:
All purpose flour – 1cup
Cooking soda – 1/4 tsp
Curd – 21/2 tbsp
Ghee – 2 tbsp
FOR THE SYRUP:
Sugar – 11/2 cup
Cardamom powder – 2 pinches
rose water – 2 tsp
saffron – 1 big pinch(10-12 strands)
METHOD:
1.First add ghee and cooking soda and rub the mixture to desired consistency as shown.
2.Then add maida and curd and mix well as shown.
3.Leave it for 20 minutes minimum covered.
4.Then begin to knead for 2 minutes not too much.
5.Roll out balls as shown with small press in the center.
6.In between heat the sugar with water enough to cover the sugar.
7.Boil and filter the sediments and again bring to boil.
8.When sugar reaches 1 string consistency switch off the stove.
9.Add rose essence ,cardamom powder and saffron.
10.simultaneously heat the kadai with oil and fry the badusha's in medium heat.
11.Fry till golden brown and drain it for a minute in tissues
12.Add the badusha's in batches.(Should leave in the syrup for 2 minutes and take away)
13.Finally add all the  fried badusha's to the remaining syrup for the final coating before it crystallizes.
14.This final coating gives badusha's light sugar covering.