How to do sambar powder/homemadeSambarpodi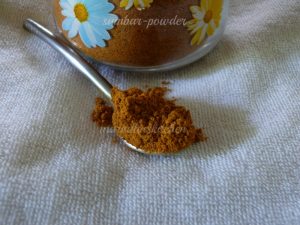 I don't make sambar powder in large batches ,I do in small batches so that it keeps fresh for 15-20 days in an airtight container.In my family(both in-laws and mother's house )they add dhania powder which contains all the spices in small amounts it is called kulumbu milagai thool nowadays.This thool is added to sambar, kootu and some varieties of kulambu along with chilli powder and is equally tasty as adding sambar powder.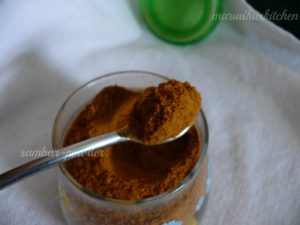 When I came to my in laws home I started making this sambar podi by collecting information from the persons who are experienced in doing this powder and at last I got my own proportion of ingredients.Everybody have their own method and proportions of making this podi and I too have my own way of making this sambar powder.Iam sure my method is success in my home that's why am confident that it will be a sure success for you too.By using this when we make parrupu sambar it is a perfect match for idli's.For this powder each ingredient should be dry roasted separately and must be made into a powder.I have used ginger powder for this which is available in on all leading stores.This is done in small batches for better freshness. Dry roast all the ingredients till good aroma is reached.
How to do sambar powder/homemade-Sambar-podi
Ingredients
Dhania seeds - 3/4cup
Red chilles - 1 cup
Urad dhal - 1tblsp
Channa dhal - 1 tbsp
Toor dhal - 1 tbsp
Black pepper - 1/2 tbsp
Fenugreek seeds - 1/2 tbsp
Mustard seeds - 1/2 tbsp
Jeera seeds - 1/2 tbsp
Curry leaves - fistful
Turmeric powder - 1 tsp
Hing powder(asafotida) - 1/2 tbsp
Ginger powder(dry) - 1/2tblsp
crystal salt as per taste
Instructions
Dry roast the above ingredients.
Roast curry,leaves chillies and salt together and first grind this after it cools.
All the other items should be roasted separately.
After grinding all the ingredients mix ginger powder,hing and turmeric together after it cools.
Store it in air-tight container after it cools.
.
Fry all ingredients to the level until fine aroma comes. This gives nice texture and aroma to podi. I have mixed both Kashmir chillies and ordinary chillies. I have added Kashmir chillies for color and to bring down the spiciness. I have added crystal salt along with chillies to grind because it will grind easily.
copyright @ marudhuskitchen