preparation of chole masala for bhatura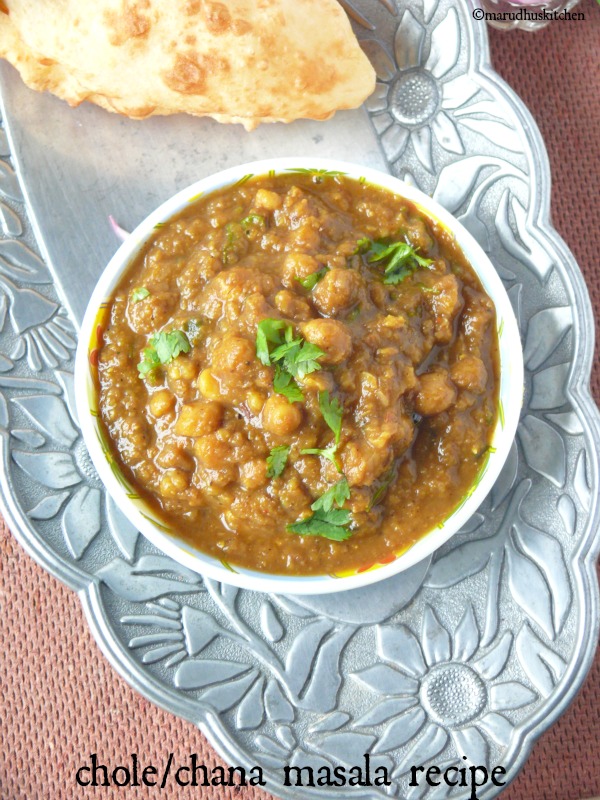 The mind and soul zings with merriment with the very sight of chole bhatura!its a desirable item to long for to have it piping hot right from the kitchen.Its not always a must that you have to add tea bags while cooking chana but the whole beauty ,the look and even flavour in preparation of chole masala is brought out effortlessly by adding tea leaves.If you are having dried amla/nellikai it is the best choice which gives not only color but tanginess to the chana when cooked itself.If you are not having tea bags then just make a small potli(pack) of tea leaves and drop it to the chana to be cooked and this will be easy option as it is available handy all the time.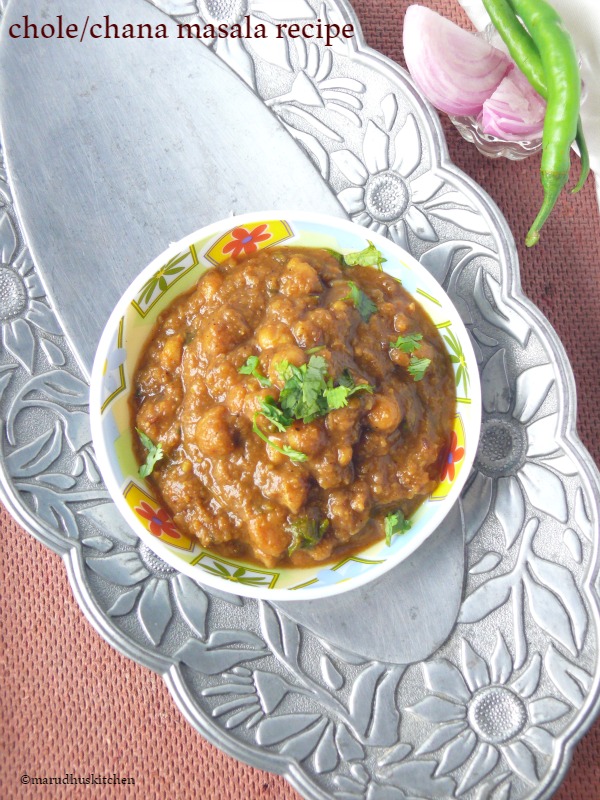 Then comes the adding of baking soda if you want your chana to become mushy you can add it or else its purely optional.This mushiness is most wanted in this recipe because it gives all the body to the gravy.Any type of chana can be used to make but the bigger variety chana is my option and if you have no pomegranate powder in hand adding only amchur powder a extra teaspoon will do and no worry the chole masala will still taste good.Sprinkling some chopped onions over the chole with a drizzle of lemon juice over it and stuffing this scrumptious chole into each gulp of bhatura is just wordless.
preparation of chole masala for bhatura
INGREDIENTS:
To boil chick peas:
Channa/chick peas – 11/2 cups
Salt as needed
Tea bag – 1
Baking soda – a pinch
To roast and grind:
Saunf/sombu/Ani seed – 1 tsp
pepper/milagu – 1 tsp
cloves / lavangam – 3-5
cinnamon/pattai – 1 strip
Big cardamom/elachi – 1
Bay leaf – 1
For grinding:
Big onion – 1
Tomato – 1-2(medium)
Greenchilli – 1
Ginger – 2 inch piece
Garlic – 6-7 cloves
Other ingredients and powders:
Chilli powder – 1tsp
Turmeric powder – 1 tsp
Coriander powder – 2tsp
Pomegranate seed powder – 1tsp
Amchur/dry mango powder – 1 tsp
Oil – 3-4 tbsp
Cumin/jeera – 1 tsp
Some crushed kasuri methi(dry)
Some chopped coriander leaves,salt as needed
METHOD:
For boiling channa,roasting  and grinding other items:
 1.Soak channa overnight and wash it thoroughly add to a pressure cooker with water.
Add tea bag,salt and soda bring it to boil close the lid.
2.Pressure cook till it is nicely tender and mushy(at-last remove tea bag).
3.Roast the ingredients given and grind to a powder and keep ready.
4.Then grind the onion tomato mixture given with chillies,garlic and ginger and keep ready.
For gravy:
1.To a kadai add oil and add cumin,when it browns add onion tomato mixture nicely saute till all the raw smell goes away.
2.When the mixture is nicely done add all the given powders it.
3.Stir in thoroughly.
4.Then add the cooked channa with water and with some extra water to the need.
5.Add salt and let it boil.
6.After few minutes add kasuri methi.
7.Let it boil till the required consistency thin or thick.
8.Switch off add chopped coriander and serve with bhaturas.
Other delicacies to check out:
vegetable kofta curry with beetroots
Related articles across the web