Gothumai roti/wheat flour adai
Easy , simple and tasty are the words apt for this wheat flour adai/gothumai roti.In my parents home my father is a full-fledged lover of this dish.He always loves it to be crisp and hot when served.The dough should be a sticky dough consistency.Usually a plastic sheet or a banana leaf is used for patting out the dough.But I have seen my mother and Patti simply patting wheat flour adai directly to a hot pan without using any sheet.I think it comes only from experience.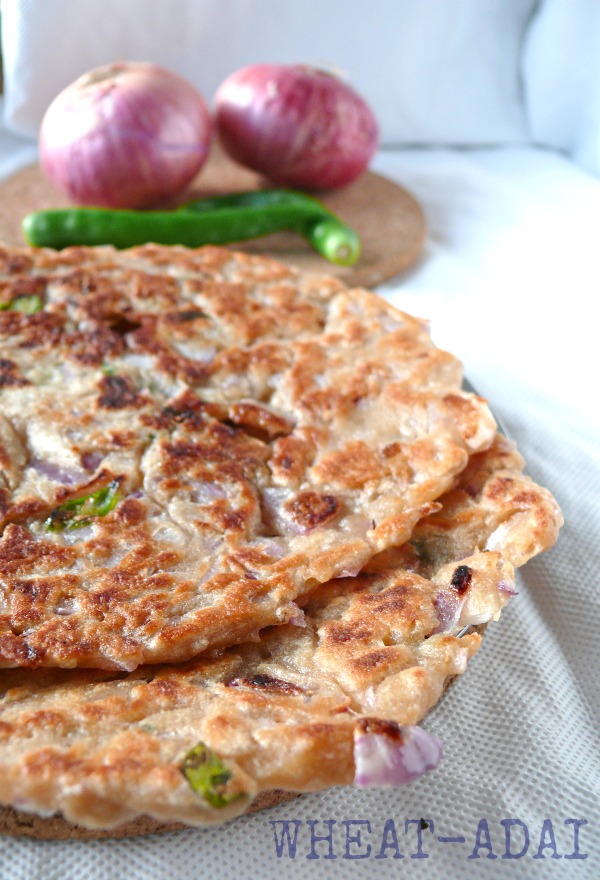 Keep a bowl of water near by so that we can dip our hand and then pat the dough to hot pan.It is a great alternative among varies tiffin varieties.It can be had as a sudden snack in the evening.when we have chopped onions before hand the work becomes even more easier.My mother-in laws method is slightly different,she pan fries onion till translucent  with very little oil and then adds it to wheat flour.she adds chilli powder instead of green chillies.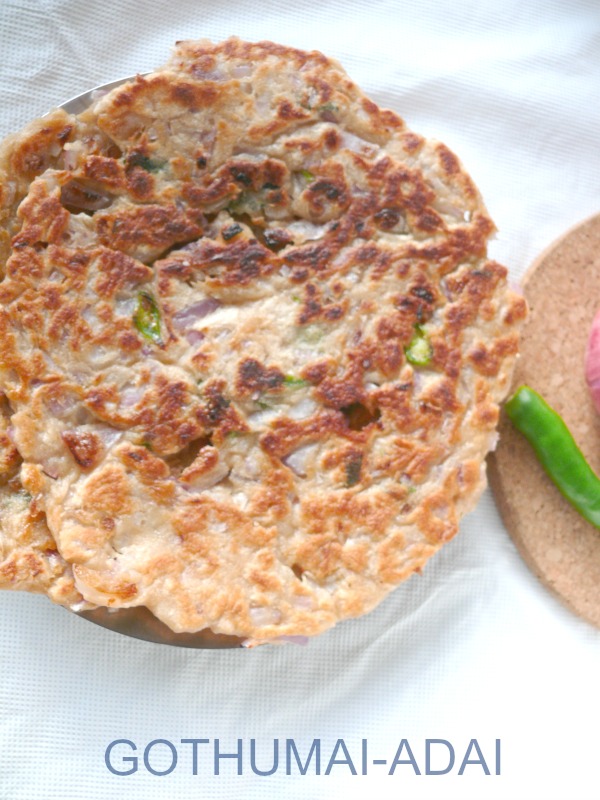 I love this method and the roti's comes out totally soft.I will explain about my mother-in laws method later on in one of my post.In this post I will be explaining the other method I have told you in the beginning.
Gothumai roti/wheat flour adai
Ingredients
Wheat flour - 2 cups
Big onions - 2 (chopped fine)
Salt to taste
Green chillies - 2
Curry leaves - few
Oil as needed
Instructions
Take all given ingredients in a bowl with salt and mix by adding water.
Make the dough to above shown sticky consistency.
In between heat the pan and dip your hand in water.
Pat the dough and make holes to cook the adai.
Add oil to adai.
Let it cook on both sides
Take it out when both the sides are golden color.
When we are using our hand for patting the dough be careful to have a cup of water near by.So that we can dip and pat.We can tolerate the hot pan's heat by dipping in water and it prevents our hands from sticking to the dough.If this method is hard you can use a plastic sheet or a banana leaf.Needed salt can be dissolved in water and then added to the flour for even mixing.
copyright @ marudhuskitchen